We invite bright and hardworking individuals with a high degree of work commitment / professionalism and a QUALITY conscious mind to join us on a full-time or part-time / contract basis. Interested parties please forward your CV to us by email or fax 852-3585 0872 . For full-time position, please specify salary history and expected salary. Positions Available:
Full Time / Contract: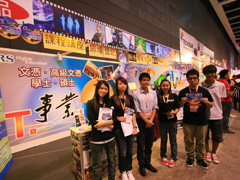 Hong Kong:
Sales and Marketing Executive
Program Services Executives
IT Support Officer
Independent Course Marketing & Sales Agent - Flexible & High Income Potential!
PT Customer Service Assistant (Day/Evening)
PT/Freelance Designer (web/graphics)
PT/Contract Telemarketing Representative (Day)
ShenZhen
Business Project and Development Officer
Business and Financial Analyst
Customer / Telemarketing Services Officer (Cantonese speaking)
Macao
Event and Client Services Assistant (PT)
Part-Time / Contract Instructors (HK/Shenzhen or Online):
Instructors in Management and Accounting / Finance
(Academic Degree/Master/Diploma and Skills/In-house Training):
Advanced Finance/CFA, Auditing, Management Accounting, Financial Risk Management / FRM, Financial Reporting, HRM, Selling Skills, Project Management/PMP, Coaching Skills, Leadership, Corporate Strategy, Events Management, Marketing, Business Law, Research Methods, Banking & Finance, Business Communication / Business English
Instructors in IT
(technical certification, diploma and degree level training/teaching):
Networking, Mobile Computing, DBMS, Advanced IS Management/Strategies/Practices, Software Engineering / Advanced Programming, System Analysis, Security.......
A University degree (from top overseas universities with Master or Doctorate preferred), good command of English (fair command of Mandarin for mainland China delivery), and with over 8 years experience in management/finance area and over 5 years experience for IT subjects. Previous training or seminar experience is required. Experience with Fortune 500 MNC / overseas work experience is highly desirable.